Dixon Ridge Success Story
The Dixon Ridge BioMax® Success Story
(Winters, California)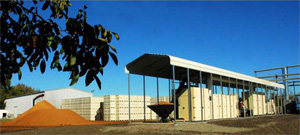 Dixon Ridge Farms, a vertically integrated farming operation that grows, processes and sells organic walnuts was established by the Lester family in 1979. Each year the farm processes annually more than 1.5 million pounds of walnut meats, resulting in more than 2 million pounds of walnut shell. In the past, Dixon Ridge Farms was selling most of the walnut shell to a nearby large commercial biomass plant. In 2007, the farm set a goal of being energy self-sufficient and carbon negative.
Recognizing that walnut shell had proven energy production abilities, the farm sought an on-site energy production solution that would use the shell as an on-site feedstock for generation of power, heat and eventually synthetic diesel fuel. The farm contacted Community Power Corporation (CPC) and discussed the potential of gasifying the shell to produce electricity and thermal energy.
These discussions lead to CPC securing a cost-shared California Energy Commission grant to scale-up CPC's BioMax® 12.5 kW System developed under the US Department of Energy's small modular biopower program to a BioMax® 50 kW System and to conduct a two-year demonstration to convert the walnut shells into electricity and heat.
The BioMax® 50 System produces ~4,400 ft3 of syngas from approximately 100 pounds of shell/hour. The syngas operates an engine generator that produces up to 50 kW of electricity. During the harvest season, some of the syngas is diverted to four modified axial fan dryers to displace propane and dry the walnut crop. Russ Lester stated: "We estimate that the walnut shell that we would normally sell for $20/ton are worth $150/ton when gasified and used to offset our on-site heat and electricity costs." The Dixon Ridge Farms BioMax® 50 kW System was commissioned in January 2008.  A BioMax® 100 System was installed in 2012 and a second BioMax® 100 System is scheduled to be installed in 2014.  BioMax® 100s provide even greater benefits to Dixon Ridge.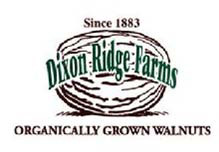 "We estimate that the walnut shells that we
would normally sell for about $20/ton are
worth $150/ton when gasified and used to
offset our on-site heat and electricity costs."
-Russ Lester
Dixon Ridge Farms
The BioMax® 50 kW System Description
Electrical Power: 50 kW (electricity production mode)
Thermal: ~650,000 Btu/hour (walnut crop drying mode)
Fuel Conversion: ~2.2 pounds walnut shell per kWhe
Gas Composition (~): H2-18%; CO-20%, CH4-2%, CO2-7%, Balance N2
Permitted: Yolo-Solano Air Quality Management District California