Philippines Success Story
The Philippines BioMax® Village Power
An Early CPC Success Story
In 1999, Community Power Corporation (CPC) joined with the U.S. National Renewable Laboratory (NREL) and Shell Renewables, Ltd. to design and develop a new generation of small modular biopower systems (the BioMax® Systems) that would power 80 homes in the Philippines. The project included setting up a renewable energy services company (RESCO) that sold the electricity to the villagers through an pre-paid energy dispenser developed by CPC, known as the Utilimeter.
This first BioMax® system was rated at 12.5 kWe and was deployed in the village of Alaminos on the island of Panay in early 2001. Using coconut shells as the feedstock, the BioMax® 12.5 achieved its major project objectives by accumulating 1 MWh of electrical output during commissioning. It also achieved a run-time record of 10 hours continuous operation. The system was largely a batch-type, manually-operated system. It was later upgraded to an automated 15 kW system.
CPC was awarded a follow up grant from the World Bank to convert this BioMax® 15 into a Community Productive Use Platform (CPUP). In addition to other upgrades, a power-take-off unit was added to the BioMax® 15 system. The power-take-off unit was connected to multiple machines including an electrical generator, water pumps, and grinders used to process coconut husks. The system was deployed at a coconut mill in Ibajay, in 2002, also located in the province of Aklan. The system provided power to convert coconut husks into fibers which were woven by local villagers into geo-textile nets for soil erosion.
Based on this project in 2001 CPC received a Technology Innovation Award from the Far Eastern Economic Review.

The BioMax® 15 kW System Description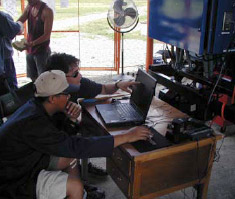 Electrical Power: 12.5 kWe
Thermal: None
Mode: Manual Operation
Fuel Conversion: ~3.3 pounds coconut shells per kWhe